Bitcoin Leads Cryptos to Lowest Since 2017 – BloombergQuint
(Bloomberg) — Cryptocurrencies continued their slide with a fresh bout of losses Friday after the SEC dashed hopes that a Bitcoin exchange-traded fund would appear before the end of this year.
Bitcoin, the largest digital token, slumped as much as 8.2 percent, taking it down past $3,400 to the lowest level since September 2017, according to consolidated pricing compiled by Bloomberg. Smaller rivals including Ether, Litecoin and XRP were hit even harder. The Bloomberg Galaxy Crypto Index sank 8.4 percent.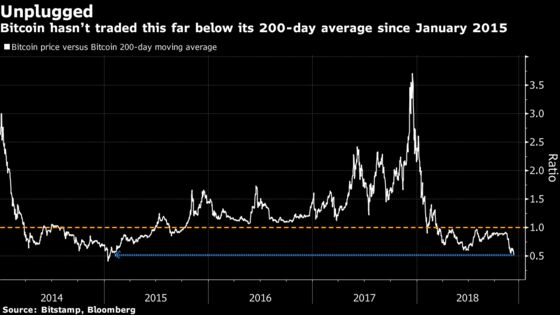 The Securities and Exchange Commission plans to decide by Feb. 27 whether to approve a proposed ETF from financial-technology company SolidX Partners Inc. and asset manager Van Eck Associates Corp., the agency said Dec. 6.
The proposal was set to get a decision from the SEC in December after previous delays and the new timeline is a fresh blow to an industry that's seen prices fall throughout 2018. A key impediment has been a lack of mainstream institutional adoption, alongside continuing security and regulatory concerns.
"Sentiment in the market is really bad, any negative news has an exponential effect," said Timothy Tam, co-founder and CEO of CoinFi, a cryptocurrency research firm.
With the latest rout, Bitcoin has now fallen more than 80 percent from its all-time high a year ago and is trading about 50 percent below its 200-day moving average, the most since January 2015, according to Bloomberg calculations. Cryptocurrencies have erased almost $730 billion in value from a peak in January, according to data from CoinMarketCap.com.