Leaked official renders reveal OnePlus 6T McLaren Edition will have faster charging technology tagged Warp Charge 30 – gizmochina
The OnePlus 6T McLaren Edition doesn't launch until December 11 but a new leak has revealed what the phone looks like as well as an exciting new feature. The leak is a set of marketing materials including official renders of the phone and was posted on Twitter by @IshanAgarwal24.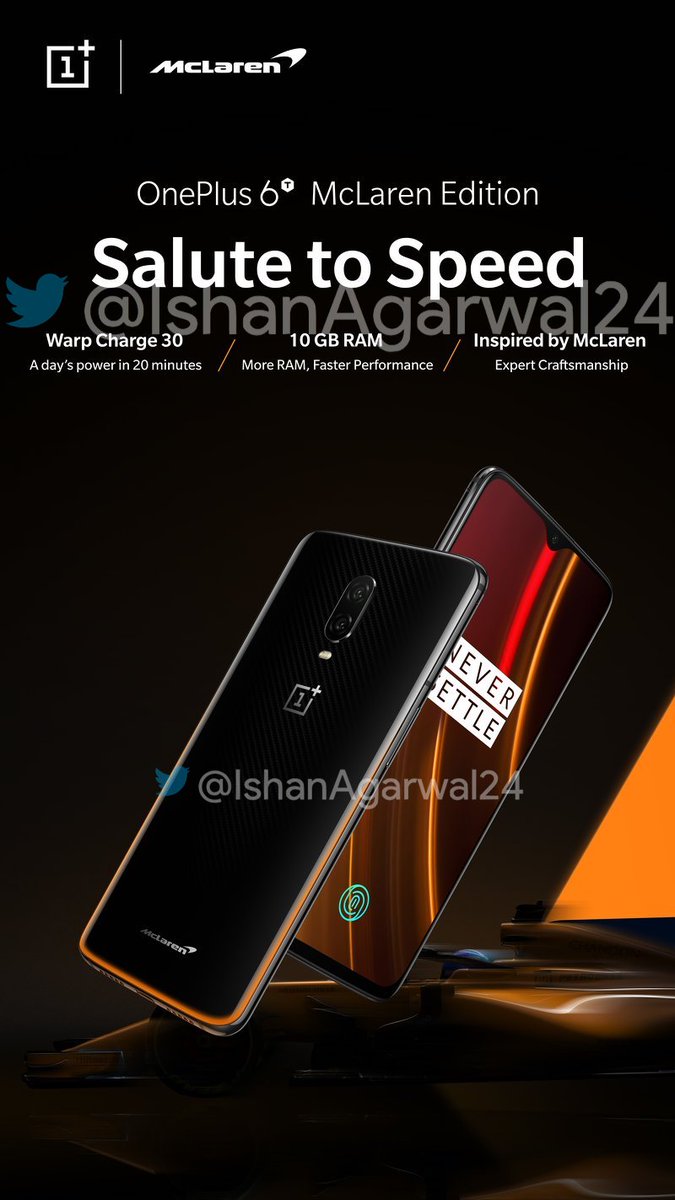 With respect to design, the OnePlus 6T McLaren Edition doesn't look any different from the regular OnePlus 6T. You get the same display with a water-drop notch and a bit of bezel at the bottom. Flip it and then you know this is indeed a custom edition.
The back is covered in glass but the inside of the glass appears to have a design that makes it appear as if it is made of kevlar. There is also an orange paint job that begins at the bottom but fades off when it gets to the sides.
EXCLUSIVE LEAK! Here is your first look at the Official Renders of the OnePlus 6T McLaren Edition Speed Orange variant with 10GB+256GB Storage and super fast new 'Warp Charge' which will provide you a day's power in 20 minutes! Do you like the phone?#SaluteToSpeed#WarpCharge pic.twitter.com/8JdoNb6SWG

— Ishan Agarwal (@IshanAgarwal24) December 7, 2018
The arrangement of the dual rear cameras hasn't changed so also is the position of the OnePlus logo but there is now a McLaren logo at the bottom of the phone. The phone still doesn't have an audio jack
Not really excited about the design? Then you will be excited about its internals.
The OnePlus 6T will come with 10GB of RAM! A first for a OnePlus phone. It will also be paired with 256GB of storage. However, the biggest addition is that it will come with a faster charging technology than that of the OnePlus 6T.
OnePlus is calling it Warp Charge 30 and it will provide a day's power in 20 minutes – 10 minutes faster than Dash Charge. So if Dash Charge gives you up to 60% in 30 minutes, Warp Charge 30 lets you reach that number in just 20 minutes. We presume that just like Dash Charge, Warp Charge 30 will only work with the included charger and cable.
READ MORE: OnePlus announces its first Research and Development facility in India
The OnePlus 6T McLaren Edition will launch in England on December 11, India on December 12, and in China on December 14.
(Source)